Suck And Sip The Shellfish Experience In Mykonos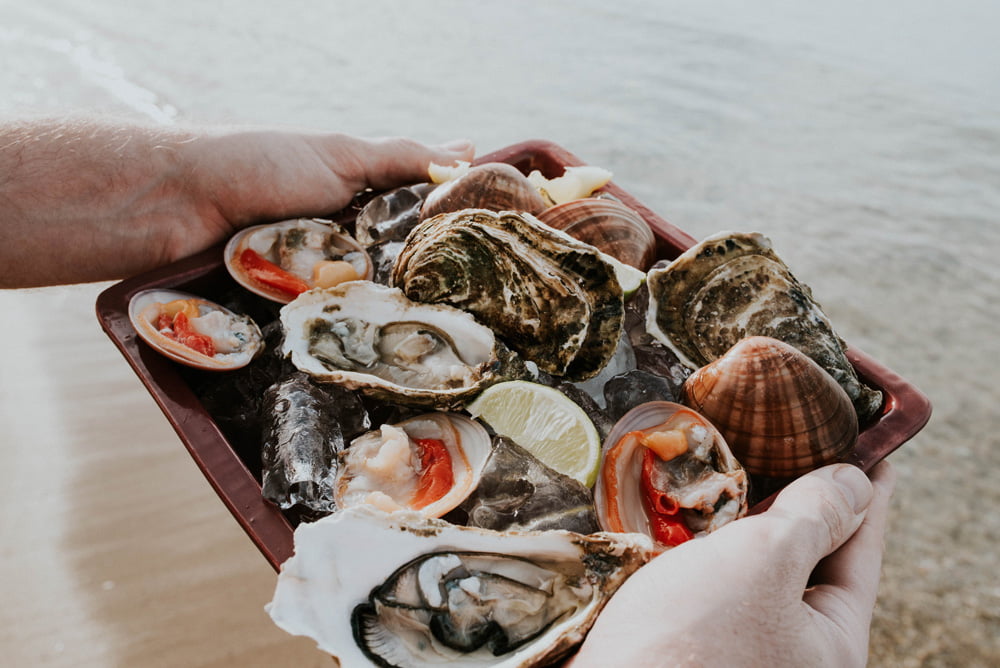 Shellfish Mykonos Tour
Shellfish Mykonos Private Experience
Mykonos Oyster Tasting
Private Suck & Sip Experience In Mykonos
Private Suck and sip experience in Mykonos
Stin Igia Mas - Shellfish Experience
We will meet in a central location and drive you to a sandy beach to enjoy delicious Mykonian Oysters with iced Tsipouro & Ouzo traditional spirits or white wine.
You'll be spoilt with plenty of oysters and clams all of them from Mykonos island and handpicked from local fishermen every morning. 
All of them accompanied with aromatic oils, Greek-style dressings and vegetables.
There'll be plenty of shucking and oyster eating. You will have the chance to enjoy the sunset, swim into the crystal clear water of the Aegean sea and eat the tastiest shellfish of your life.
Our varieties of shellfish are Greek clams (yalisteres,kidonia) and Oysters, always depend on the weather, the season and of course the catch of the day!
Starting time: 11:30 - 13:30  or 18:30  - 20:30. Daily, May - October  
Meeting point: Central location close to Mykonos Town. We can provide transfer from/to your location, hotel, villa or yacht with an extra charge. 
Duration: 2:00 - 2:30 Hours
Transportation: Private SUV or Minivan. Air-conditioned rental vehicle. Model and type may vary according to availability.
How many people: Private Tour
Language: English 
Price per person :  From 120€ Shellfish Tsipouro and Ouzo OR White Wine (2 persons min.)
We can accommodate any special request. The tour is also perfect choice for a wedding proposal, anniversaries, hen parties or birthday celebrations.
Inclusions in this unique tour
Bohemian, relaxed beach set up (picnic style).
Private transfer from/to meeting point to/from secret beach location. 
Selection of Oysters & Greek Clams.
Choose between Ouzo, Tsipouro/White Wine (1 bottle for 4 persons).
There is also Champagne choice (Extra cost).
Stories about Greek wines, Greek Mythology, Greek gods and history of Mykonos.
Professional English Speaking guide/driver
Exclusions
         Gratuities (optional)
This is a unique tour because...
        Taste unique flavors
        Listen to myths and stories of Ancient Greece
        Private experience at a scenery beach
WHAT TO BRINK WITH YOU
Swimsuit
Camera
Sunglasses
Light jacket 
Beach shoes, flip flops (No high heels)
Short trousers, beachwear
Note: Before book your experience please inform us of any food allergies if someone at your party has. 
We will do our best to accommodate your needs.
Our Tours can be 100% Customized