The Ultimate Greek Gastronomy Tasting Tour in Athens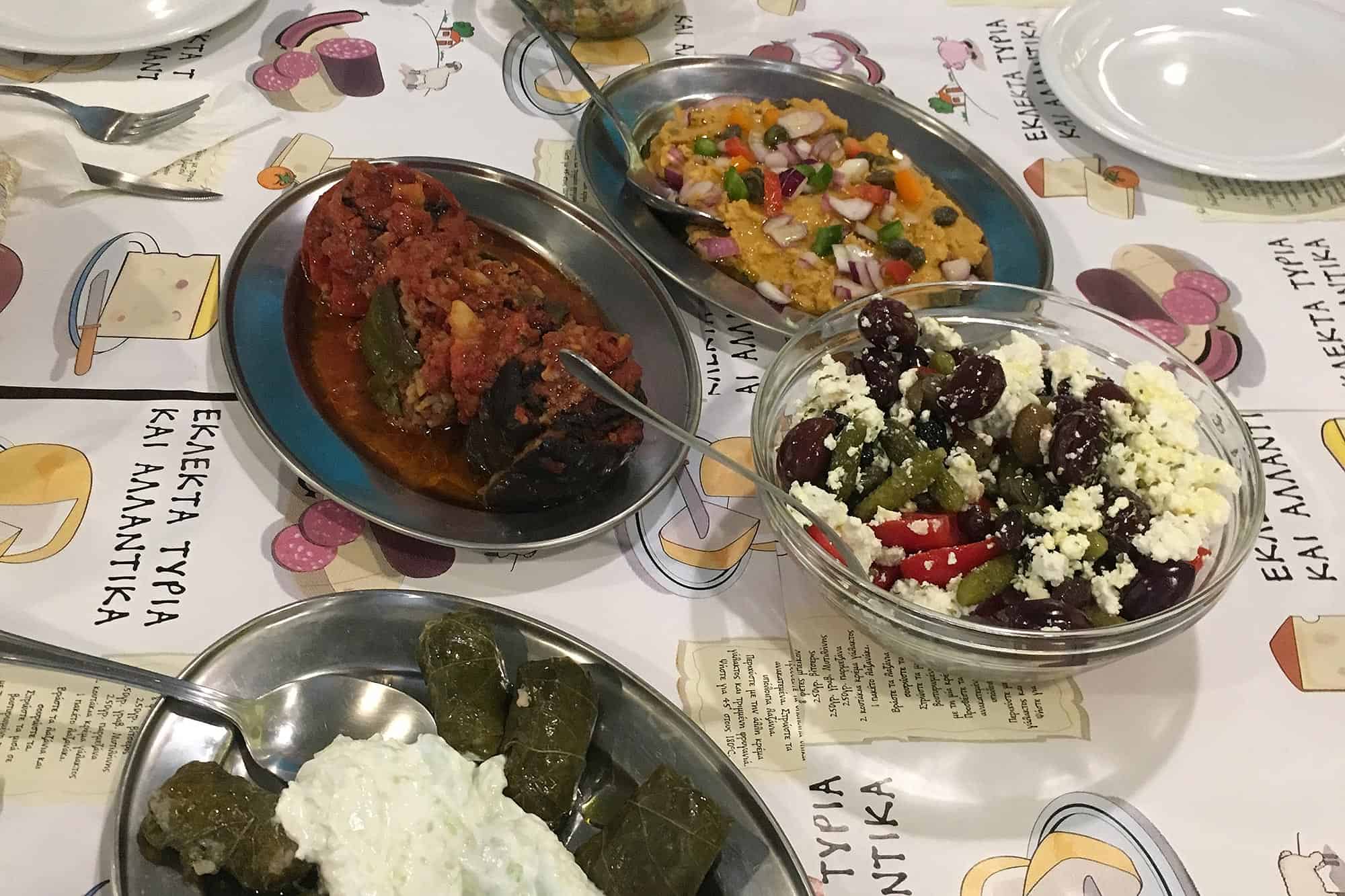 Private Gastronomy Tour in Athens
Private Food Tour in Athens
Greek Delicacies in Private Food Tour
Discover Athens through its food culture. Taste superb Greek pastries, wine, cheese, salamis and many more authentic Greek delicacies through a detailed and fun tour. Learn about the history and secrets of the Greek extra virgin olive oil by a unique seminar and taste 3 of the best olive oils of Greece.
This Gastronomy experience includes :
-Extra virgin olive oil seminar and tasting.
-3 Greek types of olives. 'kalamon' , 'athinoelia' & 'throumpa thasos''.
-Variety of cheese and cold cuts from all around Greece.
-'Ntakakia' bites, i.e. :barley rusks with spread cheese-olives-tomato- capers / or:
Greek salad with sweet cherry tomatoes from Crete, pickled cucumbers, sea salt from Kithira island, 'anevato' (semi-cream cheese), oregano from Taygetos mountain and extra virgin olive oil.
-Fava beans salad.
-Smoked eggplant salad with all the seasonal vegetables.
-'Ntolma', i.e.: wine leaves stuffed with rice.
-'Soutzoukaki politiko', i.e. :meat balls in tomato sauce, traditional recipe from Istanbul.
-Wine: "moschophilero" (white) and/or "agiorgitiko" (red).
-Balsamic vinegars tasting.
-Dessert: Strained yogurt from a monastery with several different toppings.
-Digestive liquer "masticha".
-Cheese pie, handmade.
-Stuffed vegetables (tomatos, peppers, eggplants) with rice and herbs.
-Fried pork with lemon and oregano.
-Giant beans from Florina, ragout with sausages and feta cheese.
-Broader wine and spirits tasting i.e. tsipouro (distilled wine), ouzo (distilled sugar cane with herbs).
-Amazing handmade ice-cream.
Starting time: 12:00 am
Meeting point: Hotel Pick Up or other Accommodation
Duration: 3:00 Hours
Transportation : Mercedes Benz sedan or MiniVan
How many people: Min. 1 – Max. 8
Language: English
Private Tour & Fully Customized
Price per Person: from 60€
The Plan:
Meeting Point :  Private Pick up from hotel or other accommodation.
We welcome you with a Greek "filema" , a traditional culinary gift.
Food Tour Workshop: You will arrive at our workshop in Athens for your private gastronomic tour.
Afternoon: Say goodbye and your private driver will drop you off  at your accommodation.
What's included in this unique tour :
        Private English speaking driver, offering insights and history facts.
         Hotel Pick up & Drop Off
         A/C Car
         Unique Gastronomic tour and private seminar of Greek products
         Greek Culinary Welcome Gift
What's not included
       Gratuities
This is a unique tour because...
Explore the rich and healthy Greek cuisine

Ultimate selection of premium Greek products

Learn about the history of each delicacy

Introduction to Greek Gastronomy with detailed seminar

Purchase souvenir deli products to take home
More Info :
If you have any food allergies please advice before the food tour.
Our Tours can be 100% Customized