Athens Cooking Class with Central Market Visit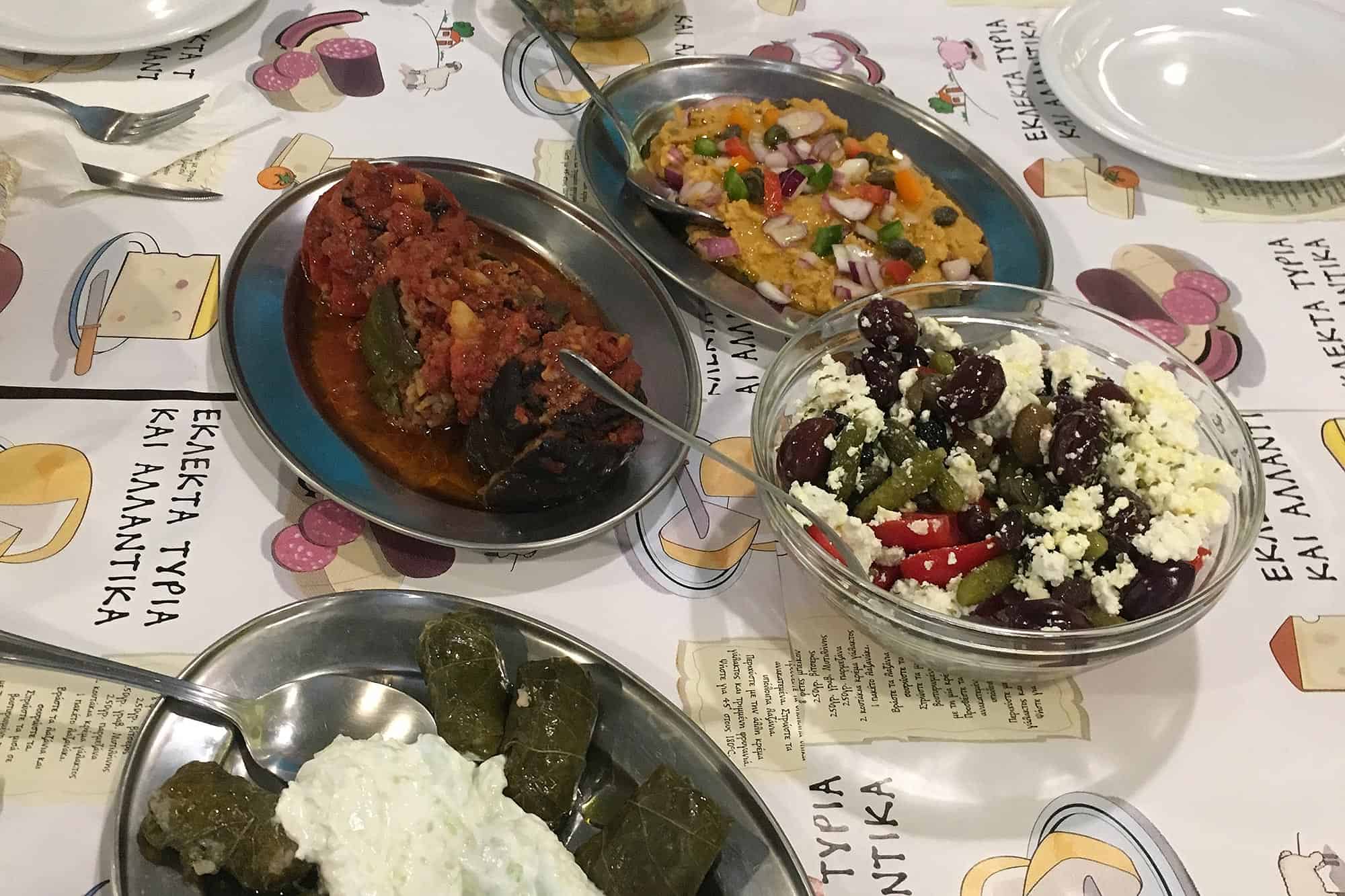 Private Gastronomy Tour in Athens
Private Food Tour in Athens
Greek Delicacies in Private Food Tour
Discover Athens through its food culture. Let us guide you to a unique tasting and cultural experience. Learn all about Greek food culture from our local chefs and take back home some useful tips to spice up your cooking. This experience is designed to make you love Greek food even more. Discuss the customs and traditions of Greek cuisine and dinning, talk about the eating habits of Greeks and learn how to cook authentic Greek dishes.
This Gastronomy experience includes (Sample Menu) :
1. Tzatziki, A classic Greek yoghurt infused with garlic, cucumber and herbs. Perfect for dipping those dolmades and pies into!
2. Spanakopita, Spinach pies with a touch of creamy, salty feta all wrapped up in pastry.
3. Dolmades, Delicious vine leaves wrapped around herb-infused rice, add some beef if you want to.
4. Imam Bialdi, Travelling back from Asia Minor with Greek refugees, this dish of roasted eggplants topped with a rich sauce and feta cheese.
5. Portokalopita, An all time favourite for many Greeks, this sticky, soft orange "pie" is made from phyllo pastry, oranges and cinnamon.
Starting time: 09:30 am or 15:00pm
Meeting point: Close to Monastiraki Square. We will share the exact address on booking.
Duration: 4:00 Hours
How many people: Min. 1 – Max. 15
Language: English
Semi Private or Fully Private Tour
Price per Person: from 85€
The Plan:
Start the experience in our workshop; it's a handy place to leave anything you don't want to carry to the market.
Head to Varvakios Agora, the central produce market in Athens, here you cook will take you on a shopping walk to pick up ingredients, meet some of the local traders and discover a few places you might not have already seen! It's not a tour of the market, but it's still an experience!
Back to our kitchen, the hands-on experience will begin and you will be involved in the preparation of your dishes.
Your meal will be served with a serving of local organic wine and a shot of Greek digestive liquor.
End your time with us with a chance to relax, enjoy a drink with your food and let us take care of the dishes.
We are happy to cater to your dietary needs, please contact us using the messaging feature as soon as possible to let us know in advance as we can't do anything at the last minute.
What's included in this unique tour :
         A walk through the market with the cook
         Local Chef
         Water, a serving of wine and a shot of local liquor
         Recipes to create the dishes at home
         All ingredients
What's not included
         Gratuities
This is a unique tour because...
Explore the rich and healthy Greek cuisine

Ultimate selection of premium Greek products

Learn about the history of each delicacy

Introduction to Greek Gastronomy with detailed seminar
More Info :
If you have any food allergies please advice before the food tour.
Our Tours can be 100% Customized