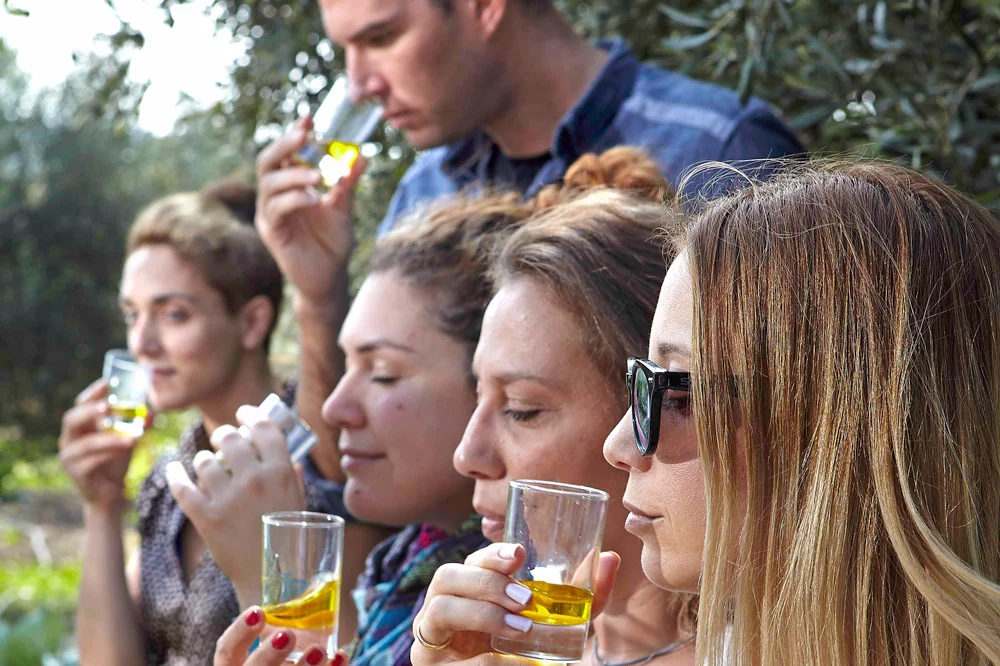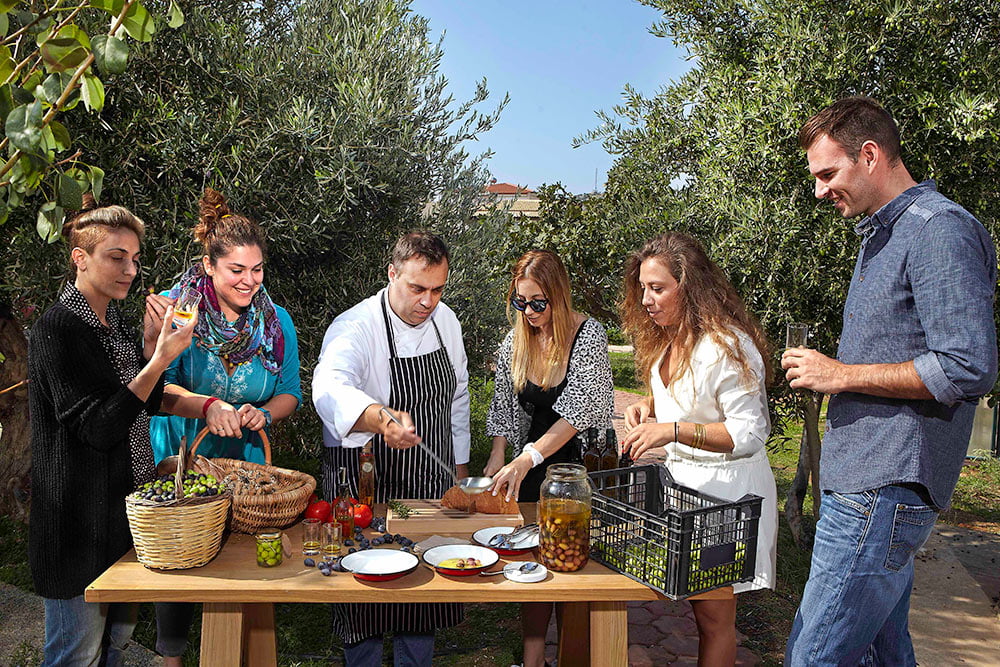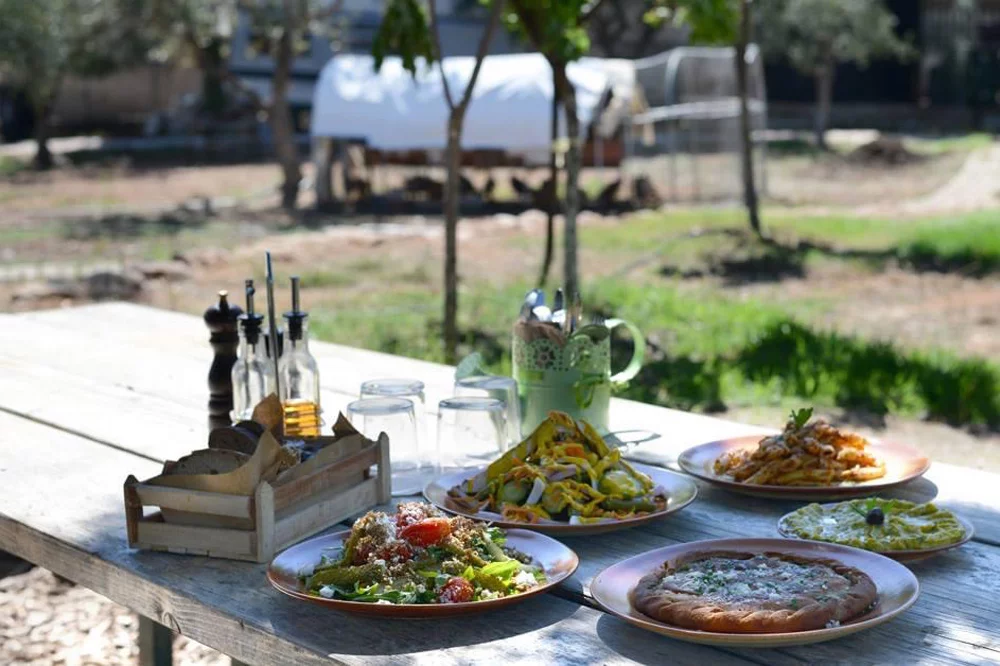 This eco experience will start with a picturesque stroll of our premises, discussing the values and history of the venue and its unique cultivation practices, based on the principles of Permaculture (regenerative agriculture). You will have the opportunity to see unique features such as our "chicken tractor", our worm farm  and our biodiversity pond, and experience first-hand how food is grown in the most harmonious way with Nature, and understand the benefits for you, the soil, the economy, and the planet.   
Strolling through our olive grove, you will learn all about the olive tree explore different varieties of olives and understand its unique position in the Mediterranean history and culture. The visit continues to our small-scale, state-of-the art cold extraction olive press, where you will find out about the production of extra virgin olive oil, its challenges, and the secrets for superior quality. You will get to experience three extra-virgin olive oils, and learn how to distinguish their fruity, bitter and spicy aromas.
After this unique tour it is time to taste our special dishes. Our farm was created with the express purpose of bringing city-dwellers closer to where their food grows - its farm-to-fork philosophy is quite evident not only in the restaurant's location, right among our vegetable plots, but also to the great care given to the ingredients used.
Vegetables are picked directly from our organically certified plots and from collaborations with small local producers, eggs from our free-range chickens and grass-fed meats from selected herds, artisanal cheeses and dairy from a local monastery, olive oil from our own press and honey from our hives!  There are vegan, paleo, keto and gluten-free options available.
Taste our fascinating hearty farm meal, which includes one appetizer or salad per two people, one main dish p.p.,  one dessert p.p. and one drink p.p. (A wide selection of coffees, herbal teas, homemade beverages, organic soft drinks, local wines and fresh Greek beers are available). Filtered water is offered free of charge.
Please note that our menus are always seasonal according to the fresh produce available.
Starting time: 10:00 am
Meeting point:  Hotel Pick Up or other Accommodation
Duration: 4:00 Hours
Transportation: Mercedes Benz sedan or Minivan.
How many people: Private Tour
Lunch (Optional) : includes, salad, appetizer, main course, drinks.
Language: English 
Private Tour & Fully Customized
Lunch (optional)
Price : From 74€
The Plan:
Meeting Point : Pick up from hotel or othe accommodation.
We welcome you with a Greek "filema" , a traditional culinary gift.
Tour of the farm and olive oil seminar.
Lunch Time (Optional) : You can try the products of our bio garden, in a farm-to-fork philosophy. 
Inclusions in this unique tour
         Private tour of the farm and olive oil seminar
         Hotel Pick up & Drop Off 
         Bio Lunch (Optional)
Exclusions
         Gratuities (Optional)
This is a unique tour because...
        You get to explore our bio farm
        Seminar of olive oil 
        See our private olive press and taste different olive oils
        Listen to the histories of all the ancient monuments from licensed guide
        100% personalized tour. No prearranged fixed tour
        Taste local cuisine with bio products that grow in our farm.
IMPORTANT NOTICE :
If you have any food allergies, or restrictions, please advise before the tour.
Our Tours can be 100% Customized