Bungee Jumping Day Trip In Greece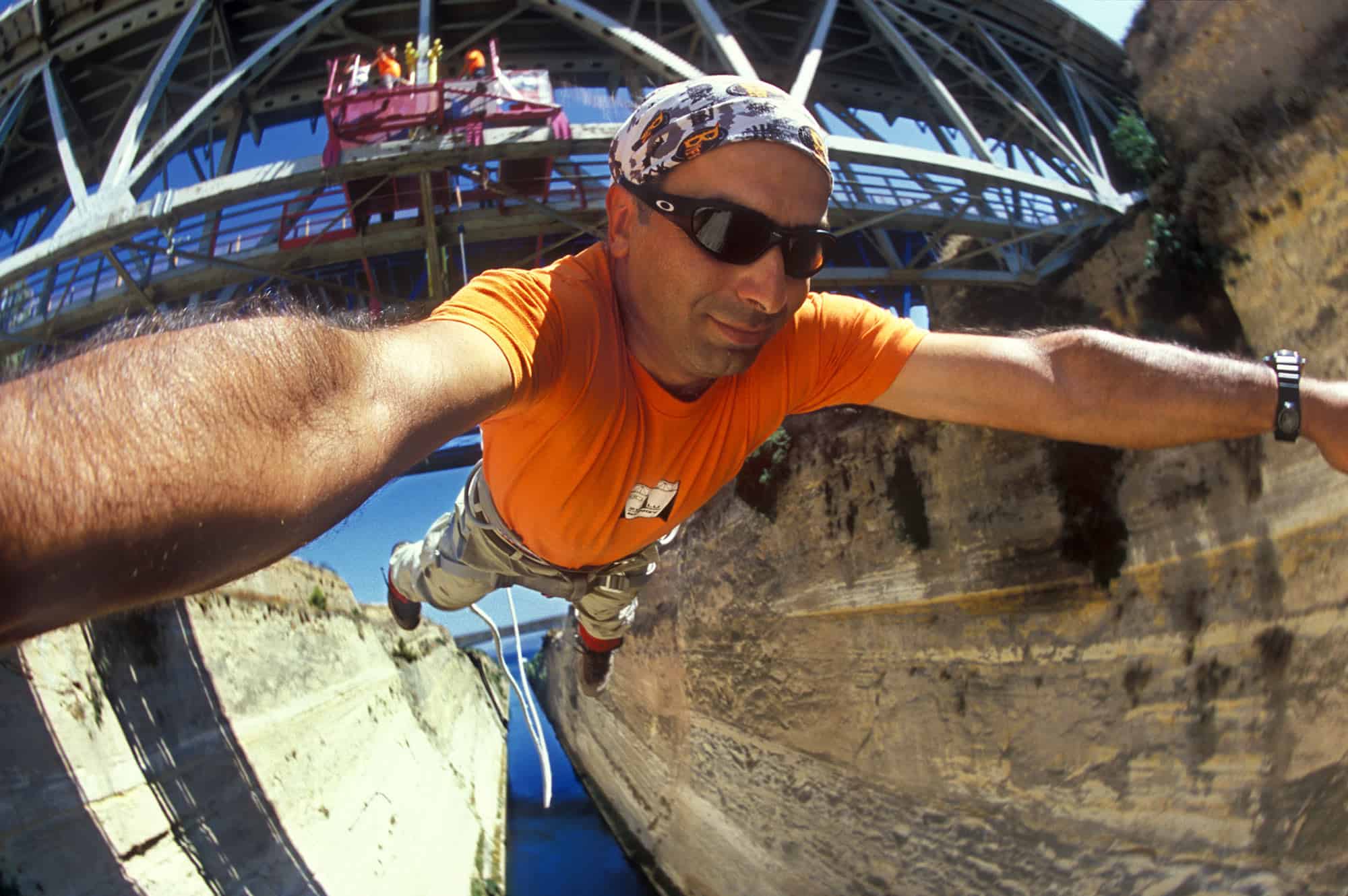 Greatest Canal In Greece
Breathtaking View Of Canal
Our trip starts by a splendid drive from Athens to bungee jumping location. Feel relaxed in your private transfer and enjoy an 1 hours route by watching the great scenery. Subsequently, once we arrive, you will have the adequate preparation by the instructors. Doing a bungee jump is the easiest way to feel liberated!
Book now this extreme bungee jumping experience in Greece and  enjoy full adrenaline packed jumps. Combine this day trip with breathtaking views of greatest canal in Greece. In addition, be overwhelmed of the pure feeling of freedom and release any stress of the everyday routine. After the fall, you will be have a video from the jump! Also, a giveaway T-shirt will be given as a reminder of this special day!
So, you will be able to share your experience with friends and family back home! Meanwhile, if the jump worked up your appetite, do not worry, there is a lunch option included in the plan. Get a chance to taste Greek dishes and wines in a traditional tavern nearby.
If you are looking for the ultimate heart-pounding thrill ride, you only need to book this amazing experience!
Your trip concludes at the original Athens starting point.
Starting time: 11:00 pm
Meeting point: Athens or Hotel Pick Up
Duration: 3:30 Hours
Transportation: By Car
How many people: Min. 1 – Max. 4
Lunch: Included but also Optional
Language: English
Private Tour & Fully Customized
Price per Person: from 135€
The Plan:
11:00 - Meeting Point : Athens main spot or pick up from hotel.
We welcome you with a Greek "filema" , a traditional culinary gift.
12:00 - Bungee Place: Arriving at bungee location after a pictursque route. Preperation of the jump with an expert, instructor. After the jump, you can get a  Go Pro video  of the experience! 
13:00- Lunch Time: After all this action you would probably feel hungry. We can visit a tavern, where you can try some of the famous Greek dishes and wines. 
14:30 - Say goodbye and return to Athens.
What's included in this unique Activity
         Private driver
         Hotel Pick up & Drop Off
         Experienced Instructor
         Video footage of experience 
         A/C in car
         Local Traditional Lunch (Optional)
         Giveaway T-shirt
         Tolls
What's not included
        Drinks & Food on bungee location
More Info
        Ages: From 18+
        Weight: 45 kg to 105 kg
        Monday: Closed
This is a unique Activity because...
         You get to make a jump at greatest canal in Greece
         Once in a lifetime experience
         Video to share this unique memory
         100% personalized tour. No prearranged fixed tour
         Taste local dishes
Our Tours can be 100% Customized