Full Day Sailing Tour from Athens to Agistri Moni and Aegina With Lunch and Drinks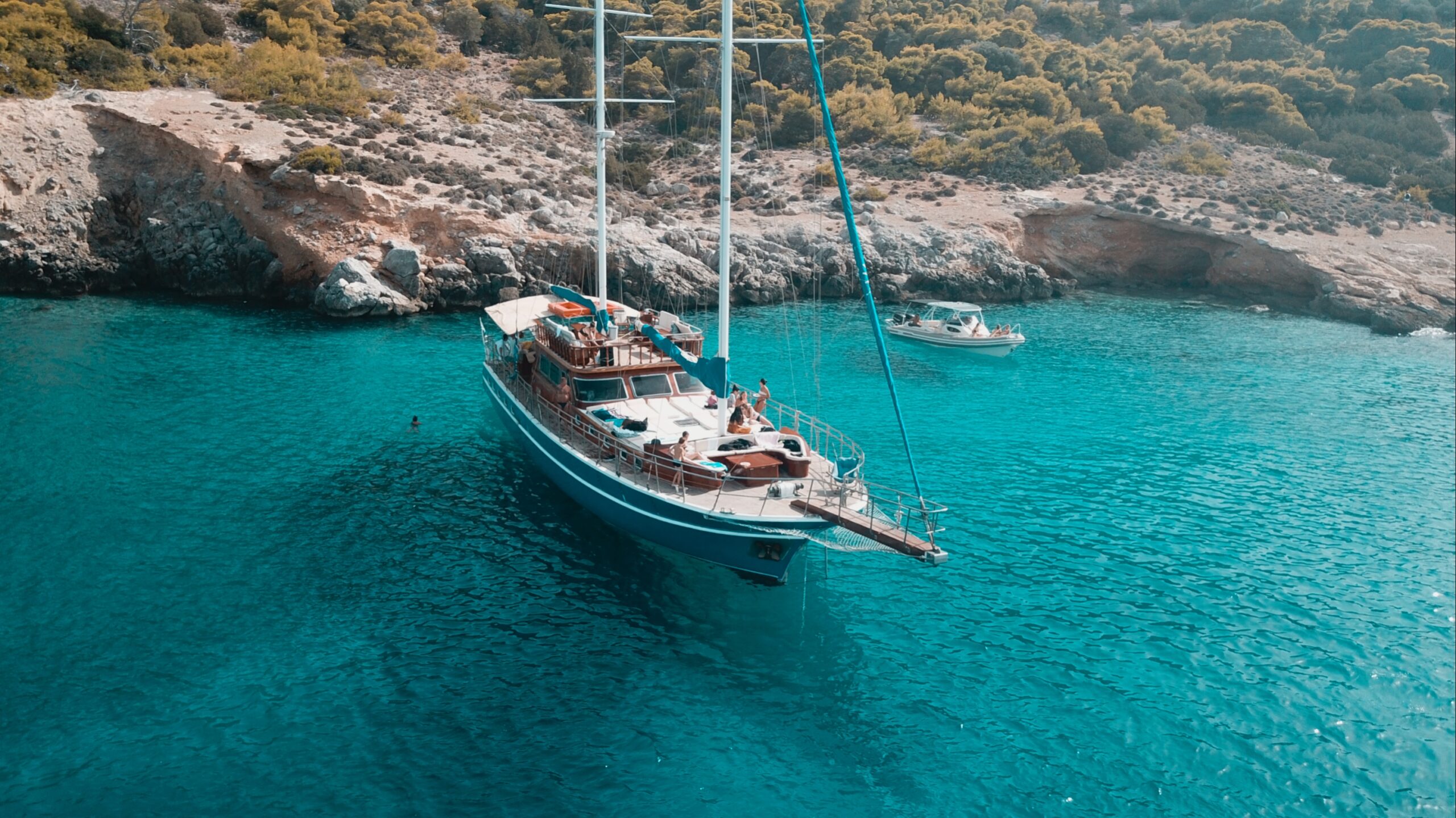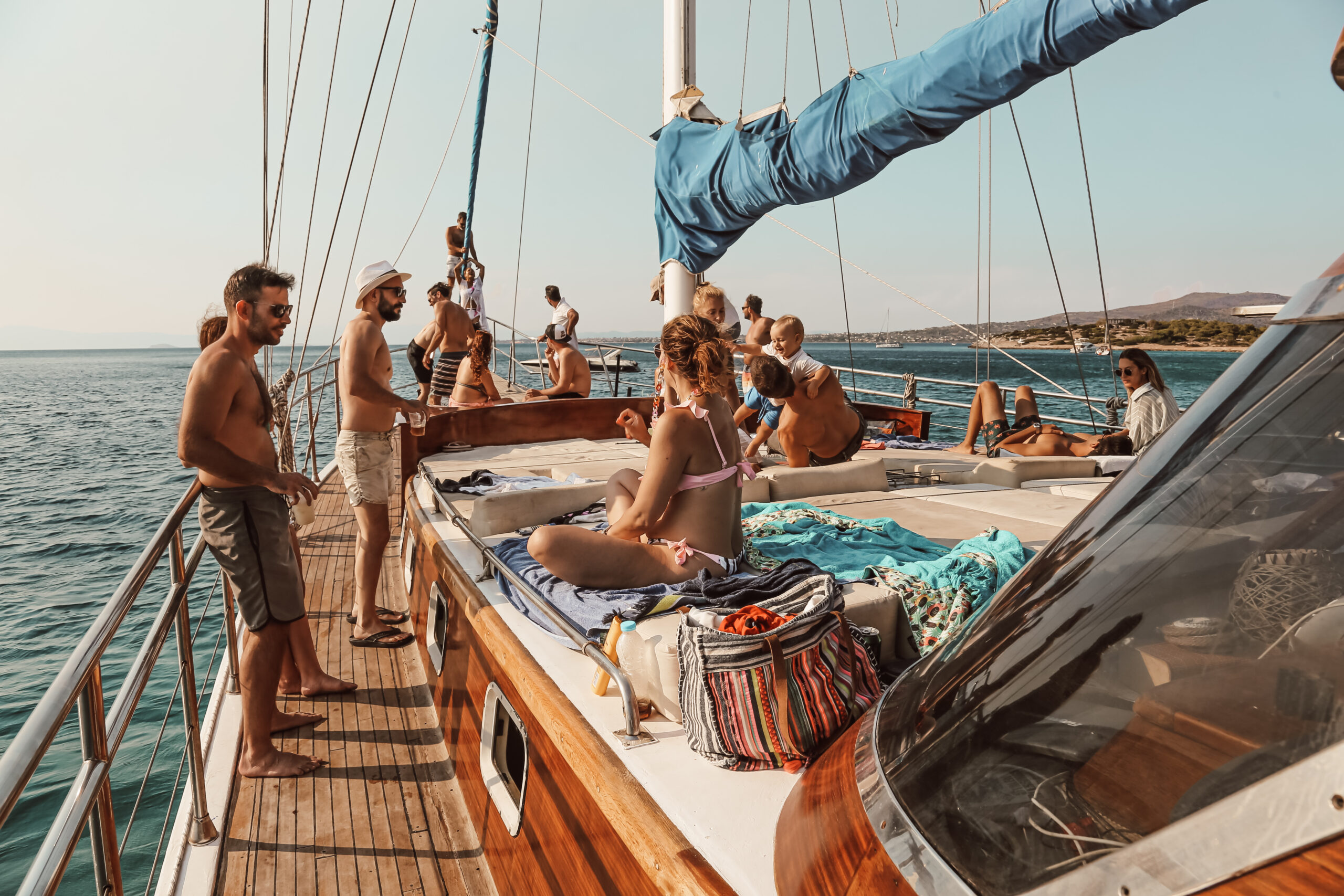 One day cruise from Athens
One Day Sailing Cruise From Athens
We invite you on a fantastic day out at sea on our modern motor-sailing boat, all along the mesmerizing Saronic Gulf and its main attractions the Islands of Agistri, Moni & Aegina.
Sail onboard our vessel in light winds on a sunny day with your friends and family. Sit back, relax and watch the buzz of the city fading away, while enjoying the peaceful Aegean Sea Horizon. Dive into the turquoise waters of the Aegean see and gaze the infinite horizon as you relax on chill out tunes. Enjoy a delicious traditional Greek lunch, accompanied by traditional wine, beers soft drinks and coffee.
Stroll Aegina Island, which is famous for its white stone houses, flowery backyards, pistachios, the red volcanic landscape, sensational food, the Temple of Apollo and the temple of Aphaia; in fewer words an earthly paradise for those who want to escape modern life.
Starting time: 07:30 am
Meeting point: Hotel Pick Up or from any other accommodation
Duration: 11:00 Hours
Transportation : Executive car round transfer to port / Sailing Boat
How many people: Min. 1 – Max. 45.
Language: English
Price per Person : from 160€
The Plan:
Meeting Point :  Private Pick up from hotel or other accommodation.
Port : At about 20 minutes after the pickup you will arrive at the port for embarkation to the sailing boat.
Megalochori, Greece, 5 hours Total
Shore stop and Interest points in Agistri for 2 hours and Skala beach, Magalochori village for 1 hour, Church of Agioi Anargyroi and the Folklore Museum for 1 hour.
Optional Tour : Join us on our bike tour and awaken your inner adventure spirit to explore the charming island of Agistri.
We will take a 60 minutes bike ride between Megalochori and Chalkiada while enjoying the breath-taking view of the coastal road and the pine scented warm sea breeze. We will stop in Skala to visit the church of Agioi Anargyroi who fascinates visitors with its blue dome.
From here, we will stroll through the magical dark green pine forest of Chalkiada, having the change to admire some of the most dramatic coastal views of the island. We will stop to catch our breath and just to lose it again once our eyes will encounter the pristine landscape of the Skliri beach. 10 more minutes and we will discover a small paradise on earth, the beach of Chalkiada, one of the first nudist beaches in Greece.
Moni Island Beach, Greece, 3 hours Total
Swimming stop at Moni Island, next to Aegina island. Points of interest in Moni: swarming fauna, flora, hiking, fishing.
Aegina, Aegina, Saronic Gulf Islands, Attica, 3 hours Total
Shore stop and Interest points in Aegina Temple of Aphaia Atena for 1 hour Archeological Museum of Aegina, Kolona (Ancient Aegina) 1 hour, Tower of Markellos, the beach of Agia Marina, breath-taking nature for 1 hour.
Afternoon: Say goodbye and return to Athens.
What's included in this unique trip :
       Welcome on board: coffee, juice, water and pastries
       An amazing day cruise around the Saronic Gulf on a beautiful modern...
       Shore stops to Agistri & Aegina islands
       Lunch on board with delicious Mediterranean-Greek food and traditional...
       Stops for swimming and sunbathing
       Chill music and amazing atmosphere
       Professional crew (4-5 people)
       Round transfer from hotel/accommodation to boat and back
       Knowledgeable tour leader
What's not included
        Optional tours on the islands
        Entrance fees for museums or entrance charge sites
This is a unique tour because...
You get to see 3 of the most beautiful Greek islands in one slot.

Enjoy the Aegean sun and gaze the deep blue of the sky and sea

Taste unique flavors
More Info :
Group type: Not private (shared)
Max travelers per product: 45
Our Tours can be 100% Customized