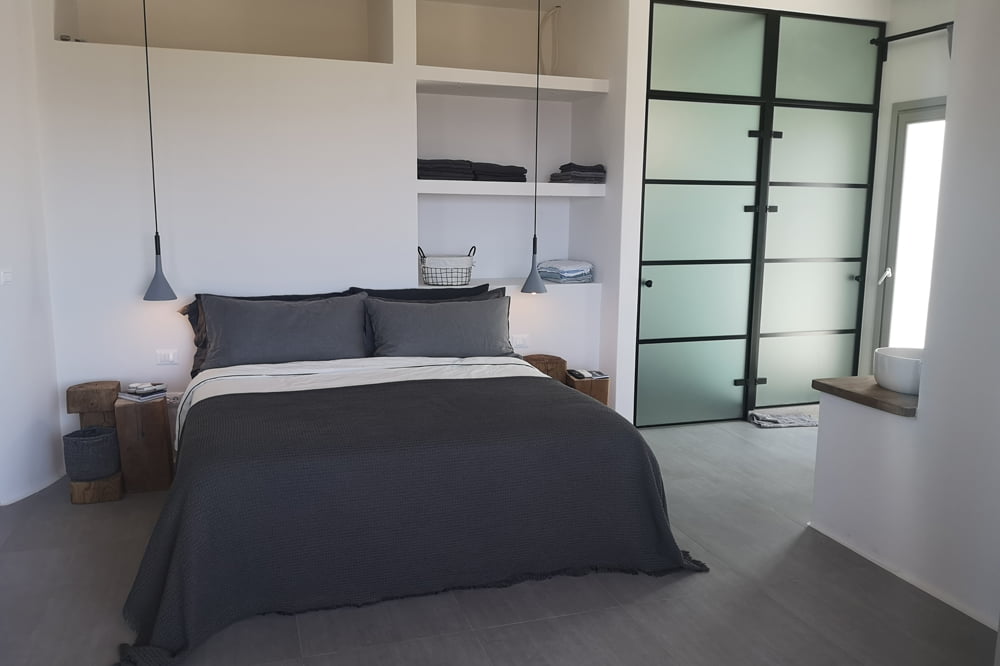 Master Bedroom Mykonos Villa
NEW luxurious villa, 200 MAIN house +60 GUEST house in Fanari, 4 miles from Mykonos town.
MAIN HOUSE:
3 double bedrooms & 2 sofa beds in LR
GUEST HOUSE:
2 double bedrooms
BOOKING:
Book as below to get the corresponding rooms
# 8 ppl = 3 bdr
# 10 ppl = 4 bdr
# 12 ppl = 5 bdr
king size beds-ensuite baths-fully air conditioned-flat TV-netflix-WIFI.
2 fully equiped kitchens-Infinity exclusive swimming pool-glorious sea/sunset views.
Terrace: lounge+dining+bath.
VERSATILE RENTAL:
You can rent either the full villa, or only the main house, offering 3 or 5 bedrooms, in each scenario.
In any case you have exclusive use of the villa premises.
Depending on the number of guests and number of bedrooms you can book accordingly, as described above in BOOKINGS (8-10-12 ppl) and the price will adapt accordingly.
MONTHLY BOOKINGS:
we offer special discount on monthly bookings, on condition that you will accept weekly freshen-up cleaning at extra cost.
AURA CONCEPT:
Here is the place, where you can feel a relaxed elegance and discreet luxury.
There is a positive aura from morning till late night, all times of the day, you can enjoy a different aspect - view - feeling of it.
DESIGN:
Sophisticated minimal, contemporary , luxurious and stylish but also respecting local culture and architecture. Designed with relaxed elegance, to serve a family as well as a big group of friends, with focus in functionality. Less is more.
OUTDOOR KITCHEN:
Outdoor living is the wow element of the villa 's concept.
you can enjoy the pool, along with great sea views and same time BBQ or cook in the fully equiped secondary outdoor kitchen. In the evening you can have cocktails in the bar, enjoying a glorious sunset. Both kitchens have stoves, fridge and dishwashers, as well as all basic utensils.
INFINITY POOL:
It is the center of the outdoor activities. Including separate low depth section, either for kids or for adults relaxing. Sun loungers for sunbathing and more.
SEA VIEW:
What s an island for, if you do not see sea?
Spectacular views to sea and close islands of Syros, Delos and the Aegean archipelago. Amazing sunset views!
AMENITIES/FACILITIES:
From the nespresso coffee machine to the toiletries, we wish to provide a 5 star experience, taking care of details, such as: hair dryers in all bathrooms, shampoo, shower gel and body lotion, 4 towels per guest - including pool towel, mosquito repellents, washing and ironing facilities, safe boxes etc.
SERVICES:
A maintenance team is coming twice a week to take care of the pool and water tanks.
Daily cleaning and linen change can be arranged on demand at extra cost.
PRIVACY:
It is very important to us and we do our best to provide it to our guests. The villa itsself is a detached house, all bedrooms have ensuite bathrooms and there is plenty of different spaces outdoors for relaxing on your own whenever you wish.
CONCIERGE:
Our Concierge partners are available to support your enquires, to make your stay even better. Do not hesitate to ask us, for you a daily boat cruise, catering in the villa, club/restaurant reservations, spa and beauty treatment appointments etc.
Please let us know how we can assist further.