Vouliagmeni Lake Day Tour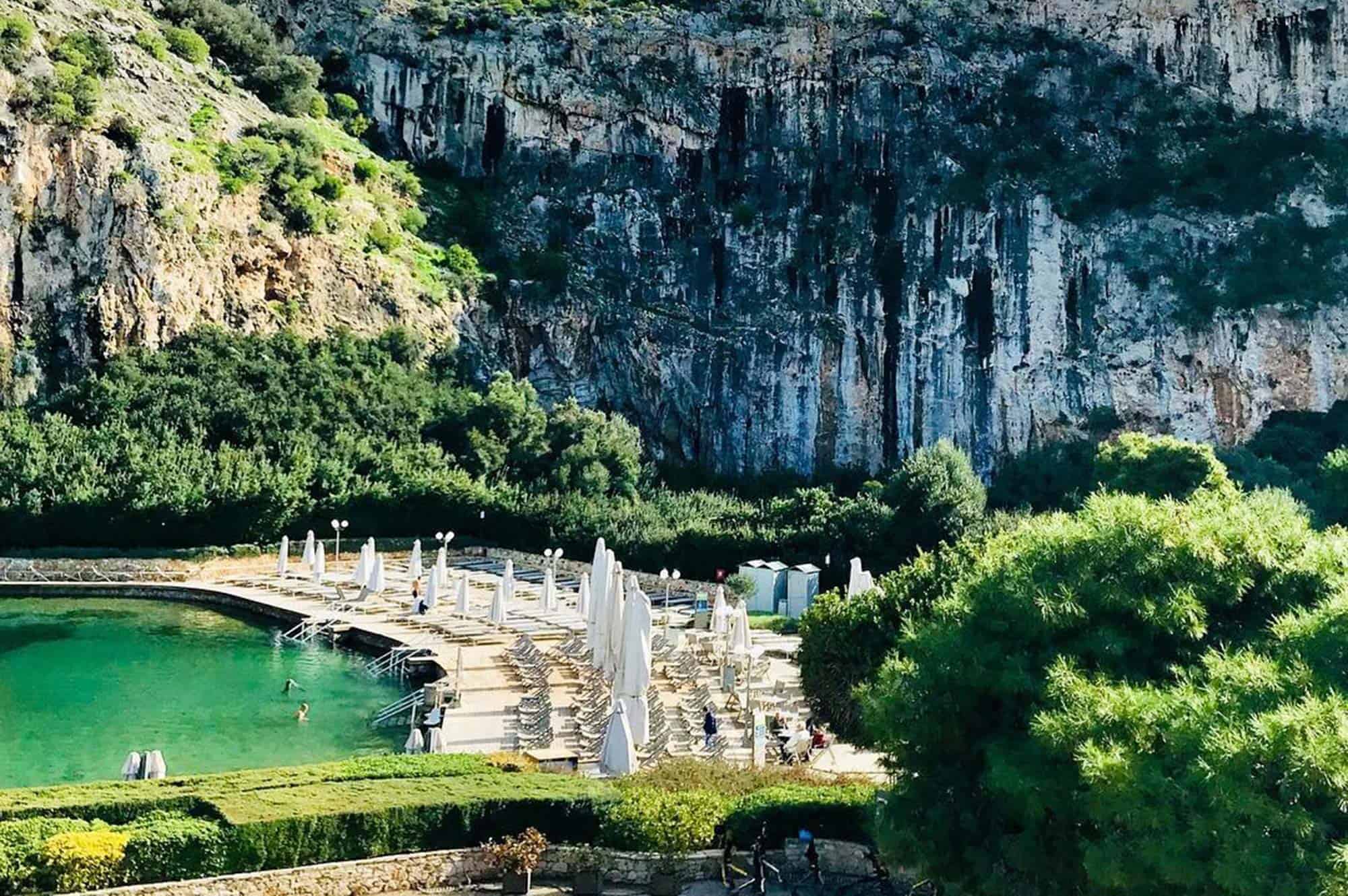 Vouliagmeni Lake
Vouliagmeni Lake Thermal Spa
Vouliagmeni Lake Natural Leisure
Natural Thermal Swimming Pool
Shrimps Seafood in Athens
Local Dish With Shrimps & Feta Cheese
D
iscover the "secrets" of Vouliagmeni Lake, one of the most spectacular natural attractions in Athens. Similarly, this day tour from Athens, offers a unique exploration of the best location of the Athenian Riviera. It's natural springs, it's mysterious & atmospheric surroundings, offer an excursion beyond the ordinary. 
The idyllic landscape of Vouliagmeni Hills and the Lake, is a unique geological feature with lush vegetation and a diversity of flora. It was created when a cave roof collapsed due to the high temperature and erosive nature of the thermal spring. This unique natural attraction is part of Greece's national NATURA 2000 network and is a classified protected wetland. Not surprisingly, it is a designated Area of Outstanding Natural Beauty. The trip includes the chance to swim in the warm lake waters, which maintain a year-round temperature of 22°C. These mineral-rich spa waters are also known to have healing properties. 
After a refreshing swim in this unforgettable setting, the tour concludes with a leisurely lunch at a local seaside tavern just a short walk from the lake. The stunning beachfront location and delicious home-cooked cuisine are the perfect finale to one of the most relaxed and enjoyable athens day tours in the scenic Vouliagmeni Hills.
Starting time: 09:00am
Meeting point: Central Athens meeting point or Athens Hotel pick up 
Duration: 6:00hours
How many people: Min. 1 - Max. 8
Language: English
Price: From 83€ p.person 
Private Tour & Fully Customized
By: Car - Mercedes Benz
The Plan:
09:00– Meet at central meeting point or Athens hotel pick up.
09:45-13:00- Vouliagmeni Lake Spa & leisure.
13:00-14:20- Lunch at local seaside tavern with delightful seafood.
15:00- Return to Hotel.
What is included:
A/C car
Admission for swimming (Umbrellas, showers, lockers, & sun beds included)
100% private tour & fully customized
English speaking private driver
Delightful lunch on seaside tavern ( main dish, salad, apetizer & drinks included)
This is a unique tour because...
It is a 100% private & Fully personalized tour
Natural thermal Spa
Unique scenic place and facility
You will have your own private driver offering tips and inside stories
What is not included :
Drinks and food inside vouliagmeni's premises
Our Tours can be 100% Customized